This thumbnail carousel is linked to the main image carousel. Selecting an image here will update the main image that is shown.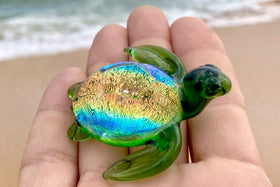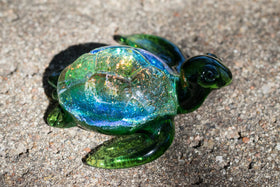 Dichroic Sea Turtle Cremation Ash Figurine
This memorial is suitable for the ashes of pets or people.

Free shipping on Spirit Pieces. Collection kits are included.

This item takes approximately 6 weeks to ship after receiving your ash kit.
This lovely handmade dichroic sea turtle pendant has been infused with the cremation ash of your loved one, making it a beautiful way to keep them close to you.   Please note that if the cremains are powdery and/or darker in color, the ashes may take on a more nebulous look. 
Sea turtles symbolize longevity, patience, wisdom and endurance.
HOW IT'S MADE
David starts with a blue tube of glass, which is melted down over a 2000 degree flame into a semi-molten disk.  Different color glass tubes are melted into the pendant to add various highlights and appendages.  Then a finishing layer of optically clear glass is layered over the blue core to forever protect your loved one's ashes.
DETAILS
We ask for approximately 1/4 teaspoon of cremains.
Measures 2"x2"x3/4"

Eligible for up to

 

20% off for larger family purchases

.



The color of the dichroic glass will change based on how the light hits it.

Ships within 4-6 weeks of collection kit's return. 

For information on ordering and discounts, add to cart and

 

look over our How To Order page.

Free shipping covers sending you the kit and Spirit Piece. You're still responsible for paying to send the cremains back.

A hanging loop can be added upon special request for an extra $10. Email us regarding at hello@spiritpieces.com for instruction.

For powdery cremains, cremains will appear as cloudy elements vs discrete particles.
A short story about turtles, grief and love...
Once, there was a little turtle named Timmy who lived in a beautiful pond with his mother. Timmy's mother was the kindest and most loving turtle anyone had ever met. She always took care of Timmy and made sure he had everything he needed.
One day, a terrible illness swept through the pond and Timmy's mother became very sick. Despite all the care and love Timmy and the other turtles gave her, she eventually passed away and went to heaven.
Timmy was heartbroken. He missed his mother terribly and couldn't understand why she had to leave him. He spent his days swimming through the pond, looking up at the sky and wondering where his mother had gone.
One day, as he was swimming, he saw a beautiful rainbow in the sky. It was so bright and colorful that it caught Timmy's attention immediately. As he looked at the rainbow, he felt a warm, comforting presence and he knew it was his mother, watching over him from heaven.
From that day on, Timmy felt a little bit better. He still missed his mother, but he knew that she was always with him, watching over him and loving him. And he took comfort in the beautiful rainbows that appeared in the sky, knowing that they were a sign of his mother's love and presence.